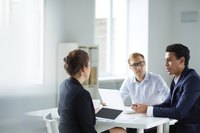 One of the most important things to understand about negotiating a public relations contract is that the process works differently than negotiating for products. Although you might use some of the same strategies, it's vital to remember that the benefits of hiring a PR firm are largely intangible. Establish a base for making comparisons by getting preliminary quotes from more than one firm. Next, set the stage for successful negotiations by reviewing your budget, setting clear expectations and selecting one or more representatives with strong negotiating skills.
Separate your business' wants from its needs and prioritize what you absolutely need from a PR firm. Although contract negotiations always involve some give-and-take -- and you should always prepare to give something away -- be clear about what your business considers both negotiable and non-negotiable clauses and contract items. For example, a start-up business needs public exposure. In this case, you might consider written or video press releases as non-negotiable items and promotional items such as pens, key chains and T-shirts -- which you can get yourself for a reasonable price -- as negotiable contract inclusions.
Encourage the PR firm to share performance-based risks with your business. Instead of settling on a blanket price, ask for a breakdown of costs for individual services such as press releases, videos and social media campaigns. Then, suggest basing the contract on a pay-per-performance model, where you pay a lower upfront retainer but agree to periodic bonus payments linked to specific results. This strategy is especially effective if you're negotiating with a newly established PR firm.
Negotiate an escape clause that allows you to review results and cancel the agreement if you're not satisfied with results after 90 days. Although the firm may balk at including an escape clause, if you agree to forfeit an already-paid retainer fee and time an escape clause with the prospect of a performance-based bonus payment, you stand a better chance of negotiating a timely escape.
Set a time limit for working through negotiations, and if you can't negotiate mutually agreeable terms and conditions, don't be afraid to walk away. If it looks like successful negotiations are drawing to a close, draft a letter of intent before creating and signing the final contract. A letter of intent is an effective way to bridge the gap between ending contract negotiations and coming to a final agreement. It gives both your business and the PR firm time to review the agreement as it currently stands and identify any outstanding issues before making a final commitment.