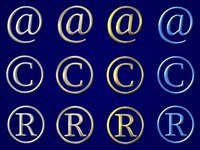 While it is not something that is required, trademark registration is important because it puts the U.S. Patent and Trademark Office (USPTO) behind you in protecting your mark. By registering your mark, you protect it nationally. Registration allows you to use ®, a notification that the trademark is registered. You would have the right for exclusive use of the mark and can also sue if you feel that your trademark has been infringed upon.
Search the USPTO database for free at the Trademark Electronic Search System website to determine if someone else has already claimed rights to the mark that you are interested in registering. Alternatively, you can do a search at the Public Search Library, by going to Madison East, 1st Floor, 600 Dulany St., Alexandria, VA 22313. The library is open from 8 a.m. to 5:30 p.m. eastern time.
Draft a description of your product that is detailed and complete enough to identify your product, using language and clear and concise terms that would be easily understandable by the general public. Examples are available at the Acceptable Identification of Goods and Services Manual website.
Choose the format of your mark: standard character format or stylized design format. The standard character format is used to register characters without any consideration to font, size or color. A stylized design format has a specific style, like when you see the "M" arches of McDonald's.
File your application online using the Trademark Electronic Application System website or contact the Trademark Assistance Center at 800-786-9199 for a paper form.
Follow the progress your registration application through the Trademark Applications and Registrations Retrieval website using the serial number that you will receive after filing your application.