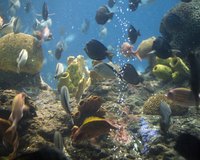 Fish are beautiful animals that make great pets. They're affordable, easy to care for, relaxing and can even help improve the look of your home or office. People will always want pet fish, which is why starting a fish store could be a great business endeavor. Although starting a business is a challenge, especially in a rough economy, there are steps which can be taken to help ensure that your store is a great success.
Things You'll Need
Business plan
Permits
Licenses
Fish
Tanks
Office space
Decorations
Gravel
Nets
Filters
Heaters
Buckets
Assess the potential. Before opening a fish store, you need to decide whether or not it will be profitable for you. Check out some other local fish stores and see what kind of business they do. Keep in mind that they will be your competition.
Write a business plan. It is important to know exactly what you're going to do and how you're going to do it. Your business plan should include the following things:
Your ultimate plan and vision for your company.
How you are going to fund your start-up.
What you are going to sell and where you're going to get it.
Who you are going to hire.
What you are going to pay your employees
What are going to be your monthly costs (rent, electricity, employee compensation, etc)
Be as detailed as possible. Planning ahead is very important and can keep your business from failing.
Gather needed permits and licenses. You will need a pet store license along with a non-game license to sell pet fish. You will also need a business license. Other permits and licenses may be required, depending on the state in which you live and on what kind of establishment you have for your business.
Apply for a loan. Unless you have a lot of money sitting around, you are going to need to apply for a business loan. This can be done at various institutions, including most banks. They will want to see a copy of your business plan.
Choose a location. Look around town for buildings that are for lease and find a nice location for your store. Find something that fits into your budget and has ample space for all of the fish you want to carry.
Hire employees. You will likely need help running your fish store. The number of employees you should hire depends on the size of your store and how much business you can generate. Start with as few as possible and hire more as your business expands.
Find a fish vendor. Unless you intend to breed fish on your own, you will need a way to purchase fish to sell in your store. Call local fish wholesalers and see who is willing to supply you with what you need at a price you can afford. Fish Mart is one of the largest domestic and import distributors in the USA.
Gather all needed supplies. You will need aquariums, fish food, nets, air pumps, lights, heaters, filters, buckets, rocks, small decorations, medications, and gravel. Buy enough of these items for your display tanks along with extras to sell to customers.
Advertise. Once all is said and done, you need to find a way to get people into your store. Start out with word-of-mouth advertising by telling everyone you know. Then put out a newspaper ad. If your business increases, or you have extra money, invest in a TV commercial.