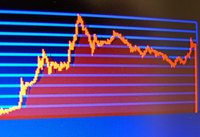 Day trading, also known as intraday trading, refers to the practice of buying and selling financial instruments (currencies, stocks, commodity futures, etc.) within one trading day. Day traders try to make money from short-term price movements. This is difficult, as prices of financial instruments often move unexpectedly. Making a living from day trading is not easy, though some people manage to do it successfully. If you decided to try your luck at it, do it cautiously and professionally.
Learn as much as you can about financial markets. Choose financial instruments that you think you could day trade successfully, such as currencies. Research them thoroughly. Determine what factors influence them to rise and fall and how you can predict their price movements.
To help you master these questions, read books on the subject, preferably written by successful day traders. For more up-to-date information, access business news agencies such as Bloomberg or Thomson Reuters.
Open a demo account with a brokerage house and test your trading on it. A demo account is similar to a regular account, but the money is not real. All good online brokers allow potential clients to open a demo account to test their trading strategies.
You can check your broker's legitimacy with the Securities and Exchange Commission, which regulates brokers.
If you experience consistent success with your trading, proceed with a live account. Opening a live account can be done online in less than 10 minutes. You can deposit some relatively small amount of money via a bank wire transfer and start trading. Again, remember about the risks, and do not bet too much.
Try to buy and sell financial instruments whose price movements you can predict with a significant degree of certainty. For example, when a central bank vows to protect the national currency from rising beyond a certain level, you can sell the currency when it is at that level, hoping to buy it back when it goes down. If it goes down on it own, your plan succeeds. If it continues rising, the central bank will use its firepower to push the currency to what it thinks is a more economically justified exchange rate, and your plan still succeeds.
If you want to make a living from day trading, you probably will have to treat it as a real job, working a full day. It would be difficult to combine some other occupation with day trading. It may be more suited for people who have retired from a more traditional career and have the time and money to focus on this endeavor.