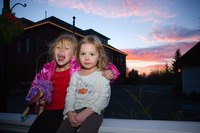 Of the 1.7 million residents living in Nebraska, approximately 109,000 are children under the age of six requiring childcare while their parents work, according to the National Association of Child Care Resource and Referral Agencies (NACCRRA). To cater to the needs of these children and their parents, it's important for childcare services to be made available, which can be done by learning how to open a daycare in Nebraska.
Secure a location. Find a property to house your daycare. Check with your city's zoning commission to ensure the building is properly zoned for this type of business. Make sure separate rooms are available for different age groups. Fence in outdoor areas since this is a requirement of the Nebraska Department of Health and Human Services (NDHHS), which oversees daycare licensing.
Set hours and policies. Determine what hours to be open to accommodate parents in your area. Write out policies covering payment for services, emergencies and other situations. Develop a daily schedule as well as menus of the meals you plan to serve. Keep all of this information at your center, and supply it to the NDHHS later in the licensing process.
Hire staff. Determine how many staff members you need based on the number of children you plan to care for and the staff-to-child ratio required by the NDHHS. Hire a director to be at the daycare center anytime a child is there, and who meets the education requirements of the state of Nebraska. Requirements include a high school diploma with two years of childcare experience or an associate degree or higher in child development.
Attend training. Contact your local health department or the NDHHS to learn when trainings for the directors of childcare centers will occur. Training is required by the state of Nebraska for all directors before applying for a license.
Submit an application. Complete the license application form, and mail it to the NDHHS along with the licensing fee and supporting documents. Fill out the disclosure of ownership along with the form attesting to your legal right to work in the United States. Require all staff members to fill out forms consenting to background checks.
Undergo inspections. Arrange a time with the fire marshal to have your daycare facility inspected for fire safety. Conduct an inspection with a health department employee, who will assess the health and sanitation of your daycare center.
Provide additional documentation. Submit copies of your daycare policies, hours, daily schedule and menu to NDHHS. Give them a sketched diagram or blueprint of your facility. Show proof that the director has the appropriate education as well as references attesting to her experience in childcare. Ask the director to fill out self-assessment forms to submit along with her qualifications. Complete the employee health information report by having a medical exam done.
Pass the final inspection. Wait for a childcare inspection specialist to contact you for the final inspection after submitting all of the documents required to get your license. Walk through the facility with the specialist. Once you have their approval, receive your license and open your daycare center in Nebraska.