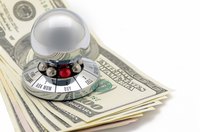 New Zealand consumers who buy bonus bonds purchase small pieces of an investment limited to government and company bonds or local authority and bank debt. The investment scheme pays back the income earned from the investment through a lottery system, involving a prize draw. Potentially, a consumer may win all the income derived from the overall investment scheme, or nothing at all.
Consumers, however, may also sell back the bonds and get back all the money put into the investment, but will not earn anything above the original investment. Buying the bonds is simple: visit an Australia and New Zealand Banking Group Limited (ANZ) location or a Post Shop to fill out an application and make a purchase.
Visit an Australia and New Zealand Banking Group Limited (ANZ) or a Post Shop location in New Zealand and request to purchase Bonus Bonds. Anyone may purchase Bonus Bonds, but children under 15 must have a parent or guardian with them who will sign off on the application.
All applicants must present photo identification, such as a passport, driver's license or any other national identity card with a photograph. To locate an ANZ branch or a post branch, visit the appropriate locator website (see Resources).
Fill out the Bonus Bond application provided by the representative at the location you visit. The application consists of one page that must be filled out entirely and accurately. Attached to the application, you will find an overview of the terms and conditions; make sure you read the terms and conditions entirely before signing and returning the application. An applicant must purchase a minimum of 20 bonds totaling $20.
You may also download the application online, print it and fill it out before visiting a location to speed up the process (see Resources).
Check the results of the prize draws held each month, at the next complete calendar month and going forward, following the purchase of your bonus bonds. This means if you purchase your bonds in June, the next prize draws to include your bonds falls from 01 August going forward until you redeem your bonds.
You may redeem the bonds at any time by visiting a Post Shop location or an ANZ location and requesting to redeem them. Simply present identification and complete a redemption request. You will receive your payment in approximately 28 days.