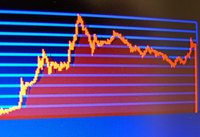 A public or publicly traded company is one whose shares are available for investors to buy on the stock exchange or through the over-the-counter market. You can buy shares in a public company and participate in the company's growth and receive any dividends the company pays to shareholders. For most public companies, you should be able to find the stock information on the Internet and buy the shares through an online brokerage account.
Find the stock symbol for the public company. A stock symbol is a three- to five- letter identifier that is used to place stock buy and sell orders. The symbol can be found on the investor relations page of the company's website. Other sources of stock symbols are the symbol lookup function on the stock pages of Yahoo Finance and Google Finance.
Look up the current share price of the company to get an idea of the share value. Enter the stock symbol in the quote box on the Yahoo Finance or Google Finance homepage.
Open an account with an online discount stock broker. You can complete the account application and arrange to deposit money through the broker's website. Smart Money magazine provides an annual comparison of the top online discount brokers (See Resources).
Buy the shares of the public company using the stock trade screen of your online brokerage account. To place a trade you need to enter the stock symbol and number of shares in the indicated areas. Select market order and make sure the order is to buy shares.