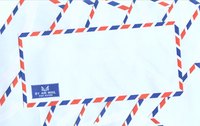 Sending a letter via airmail to Europe is not difficult--in fact, you don't even have to fill out a customs form if you are simply sending a letter in a standard mailing envelope. It costs a little extra to send a letter to Europe, but probably not as much as you may think. The price depends on the country you are sending to, but it is usually no more than a few dollars.
Write your name and address, including the country, clearly in the upper left hand corner of the envelope. This is important in case the mail needs to be returned to you for any reason.
Write the full address of the person you are sending the letter to on the bottom right hand corner of the envelope. Remember to print clearly and to write the country as well.
Write out "Air Mail" across the top of the envelope, as suggested by Enjoy Europe. Mail to Europe from the U.S. is sent standard by air, but Enjoy Europe recommends writing this to get the postmaster's attention.
Take the letter to your post office. The clerk should tell you your delivery options--these include first-class mail international (the least expensive), and Global Express. The clerk will be able to tell you approximately when you should expect your letter to arrive--it depends on the destination, but generally letters sent first-class international take between a few days and a week.