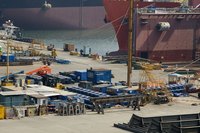 The U.S. is South Korea's biggest trading partner. According to U.S. Census Dept data in 2008 the U.S. imported $48.1 billion worth of goods from South Korea. South Korea is the U.S.'s eighth-largest trading partner, as the U.S. exported $34.8 billion worth of goods to South Korea in 2008. According to the U.S. Commercial Service until the recent U.S.-Korea Free Trade Agreement, signed in June 2007, South Korea had long maintained a broad set of tariffs on agricultural and other goods, but the tariffs are being gradually phased out under the free-trade agreement. The free-trade agreement also confirms South Korea's most favored nation status, meaning that no additional restrictions (besides those that apply to all imports) are placed on goods imported from South Korea to the U.S.
Importing Goods to the U.S. from South Korea
Set up an import (or import/export) business. This involves some paperwork (more or less depending on what state you incorporate in) both in terms of incorporating the business and in acquiring a license to import. The import of certain goods --such as agricultural products or live goods--requires special licensing at both the federal and state level.
Research what products you are planning to import from South Korea. Iron and steel, chemicals, textiles, semiconductors, ships and automobiles are South Korea's main exports. Foodstuffs, toys and other manufactured goods are also exported in significant quantities.
Establish a letter of credit at a commercial bank. This involves either having significant funds on deposit at the bank or providing collateral equivalent to the amount of the letter of credit. These funds can be used to pay the company in South Korea from which you are buying the products.
Order the South Korean products you are planning on importing. Then confirm the shipping and receipt of the goods through U.S. Customs. If you are importing heavy or bulky items and shipping by transport containers at sea, it can take up to two weeks to receive your products.