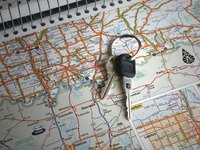 City maps are an important tool to help visitors find their way around or help residents get to know their city. City maps list major landmarks, roads and neighborhoods. While computers and smart phones now display city maps electronically, many people still prefer to carry a paper copy of a city map as they explore the city or plan a trip there.
Outline your map with a pencil or pen. Draw a rough outline of the city shape, taking up most of the paper. Indicate which way is north in the upper right or left corner of the paper.
Draw the major highways and roads on your map. Stick to just the major roads initially. Indicate where highway exits are that lead in and out of the city.
Draw the city landmarks, such as schools, libraries, monuments, museums, parks and bridges. Label each landmark on the map. Use symbols for these landmarks.
Draw bodies of water in the city on the map, if applicable.
Draw the secondary streets on the map. If the map has room and the city is small enough, you can also draw the smaller streets, like specific streets in each neighborhood. Label each street when you draw it. If a street is a one-way street, indicate which direction traffic flows using arrows.
Draw any other miscellaneous attractions or areas on your map, such as a downtown area or specific shopping or art districts. Also, draw major public transportation stops or stations.
Draw a legend on your map. Indicate whether the map is to scale or not. If it is, indicate the approximate distance of one mile. Also include different symbols you might have used for different attractions or points of interest.