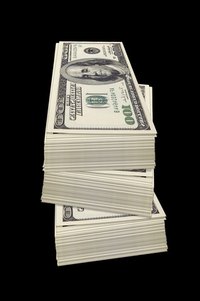 If you have silver bullion bars you want to sell, knowing how and where to go will help you find the highest price. Selling bullion bars to an individual or a to pawn shop will most likely result in a lower payout; a better option is companies that specialize in weighing and purchasing silver. Going through one of these companies can ensure you're paid close to what the silver is actually worth.
Weigh your silver bullion bars so you'll know about how much your silver bars are worth. Knowing their estimated value in advance will save you from selling at too low a price. As of July 2010, the current value for silver in U.S. dollars was $18.32 per ounce.
Investigate companies that invest in precious metals, such as American Precious Metals Exchange, Cash For Silver USA and AmeriGold. To sell your silver bullion bars to these companies, contact the company directly. It will then send you special packaging to ship your bars back to them. Once the company receives your silver, it will mail you a check.
Consider selling your silver bullion bars through an auction website, such as Silver Bullion Auctions, Seek Bullion, U.S. Currency Auction or eBay.
Take your silver bullion bars to a local jewelry store. Many jewelry stores will purchase them to melt and use for new jewelry.