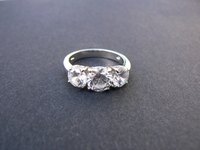 Crafting your own ring adds a special touch to any occasion. Molding your ring is the first step in the process. It involves taking a piece of jewelry wax and creating it into an eloquent piece of art.
Things You'll Need
Jewelry wax
Wax carving knife
Jewelry saw
Jewelry sander
Jewelry stones (optional)
Cut the tube of jewelry wax down to the desired band width.
Trim the piece of jewelry wax down to the desired height.
Carve a hole in the middle of the jewelry wax. This hole should be the ring size of the wearer.
Cut small holes where the desired jewelry stones will be placed. Place the jewelry stones in the holes.
Shave the jewelry wax to the desired band thickness.
Carve in the desired designs on both the inside and outside band of the jewelry wax. Cut prongs and air holes in the wax for the jewelry stones if desired.
Saw and sand away any rough edges in the wax for a smooth wax mold.