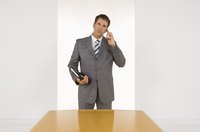 Every organization faces some type of risk. In a business sense risk is any threat to accomplishing organizational goals and objectives. In general there are three key management risk techniques: risk avoidance; risk transfer; and risk control. Identifying the key risk management technique best suited for each particular situation is a difficult task. In order to manage risks properly the organization must first identify and then measure (assess the impact and likelihood of occurrence) the risks that it faces. After identifying and measuring the risks it faces the organization can choose the appropriate course of action (the key risk management techniques to use).
Conduct an organizational risk assessment. Use a team approach; no one person will know the risks from all parts of the organization. The risk assessment team should consist of management from throughout the company. The team must know the organization's objectives. These should come from the organization's strategic plan(s). Identify risk for each process and function in the company. The types of risks include: hazards, which lead to liability, property damage and disruption of operations; financial risk, such as incorrect pricing, asset value decline, currency and liquidity risk; operational risk, such as poor customer satisfaction, product failure, integrity failure and decline of reputation; and strategic risk, such as increased competition, market and social trends, and availability of capital.
Put identified risks into the proper context. Gain an understanding of the current operational conditions internally and externally from a risk management perspective. Analyze and quantify risk in terms of likelihood of occurrence and cost to the organization. Assess and prioritize risks in terms of cost and severity to the overall goals and objectives of the organization.
Determine the best risk management technique available given the type of risk, the likelihood of occurrence and potential cost and effect on the organization. Use risk avoidance for high-frequency, low-impact activities, but keep in mind that this technique can lead to loss of opportunities. Use risk transfer for high-impact but low-frequency events. This technique involves insurance and hedging, so it may be very expensive. Use risk control for high-frequency events with medium to high impact. This involves establishing internal controls to manage and monitor the risk and obtain feedback on the effectiveness of the controls and how to improve them on an ongoing basis.