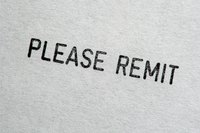 Exercise your right to protect yourself from abusive debt collectors. The U.S. Federal Trade Commission (FTC) forbids practices such as the use or threat of violence, the use of profane language and misrepresentation of the debt collector or debt. States also regulate debt collectors. If a debt collector violates state law or the FTC's Fair Debt Collection Practices Act, report him to the FTC and your state's attorney general. Reporting an abusive debt collector can stop harassment and prevent it from happening again.
Gather any documentation you have of the abuse, the identity of the debt collector and the name of the debt collection agency. Documentation may include written correspondence, phone or financial records or statements from witnesses.
Write a detailed summary of the abuse. Include the dates and times of each incident, as well as any steps you took to resolve the problem and the debt collector's response.
Contact the FTC with your complaint. The FTC accepts complaints by phone at 877-FTC-HELP (877-382-4357) or online. If you choose to file your complaint online, use the Complaint Assistant on the FTC's website. Submit all documentation requested.
Call your state attorney general's office or check online for instructions to file your complaint. If you do not know how to reach your attorney general's office, check the National Association of Attorneys General (NAAG) website for contact information.
File your complaint with your state attorney general's office.