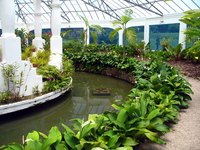 Building a miniature greenhouse can seem a daunting task, but with just a few common materials and 15 minutes of your time, you can build one. Because it is small enough to move inside during cold nights, a miniature greenhouse is typically used to give plants a head start in the spring. According to Apartment Gardening Homes website, miniature greenhouses also allow apartment dwellers the opportunity to have a healthy garden with limited space.
Things You'll Need
Scissors
Corrugated Cardboard Box
Coat Hanger
Wire Cutters
Staple Gun
Plastic Grocery Bags
Use your scissors to cut the sides of the corrugated cardboard box to about 4 inches in height. This height allows for enough material on the sides to provide support without blocking the sunlight.
Cut off the hooked part of the coat hanger using the wire cutters. Straighten the coat hanger so that it makes one strand of thick wire.
Bend the coat hanger into a V shape and stick the ends of the wire into the sides of the cardboard box. This will serve as the frame for the roof of the greenhouse.
Use the scissors to cut the plastic bag into a flat sheet of plastic, removing the handles. Depending on the size of box that you are using, more than one plastic bag might be needed.
Staple the edge of the plastic bag to the side of the cardboard box. Drape the plastic over the coat hanger and pull it down to the opposite side of the cardboard box, securing it with staples. This leaves the two ends of the box exposed, so that you can easily access your plants.
Put the greenhouse in a sunny area and place your plants in pots inside. Remember that plants in greenhouses need extra water to compensate for the higher levels of heat.