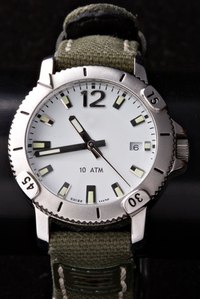 Selling antique or vintage watches allows watch enthusiasts to earn money and indulge in their hobby at the same time. Unless the seller plans to accumulate a large inventory and employ a watchmaker to service watches, making large sums of money is unlikely. However, careful planning, knowledge of the antique watch market and selling quality timepieces can ensure a steady income. Sellers can go four routes: auction watches online, sell to secondhand dealers, sell on consignment or open a business.
Things You'll Need
Research and Inventory
Investigate thoroughly the antique and vintage watch market. Study vintage watch price guides, read online watch forums and research prices at online auction websites.
Develop your inventory. Decide whether you are a dabbler selling the occasional watch or whether you want to buy and sell large quantities. Be prepared to invest funds ranging from a couple thousand to tens of thousands of dollars if you decide to start a vintage watch business.
Establish a relationship with an experienced watchmaker who can service, repair and offer advice on your inventory.
Online Auctions
Establish a seller's account at an online website. Take sharp photographs of the watches you sell. Provide a thorough description of each watch you plan to auction.
Avoid posting poor photographs and vague descriptions of your watches. Buyers don't trust sellers who appear to be hiding something.
Establish a record of positive feedback on your sales transactions. The rule of antique collectors is they are "buying" the seller as much as the watch. Poor buyer feedback generates lack of trust.
Consignment
Ask brick and mortar antique shops to sell your watches on consignment. This frees you from the hassle of selling.
Adjust the prices upward on your watches to compensate for dealer consignment fees.
Consider that vintage watches generally sell cheaper online than at brick and mortar shops. Vintage watches on consignment sell relatively quickly, but online auction sales generally take less than 10 days.
Sell Directly to Dealers
Directly sell your watches at antique and secondhand shops. Dealers are eager to buy watches as the competition intensifies to collect and sell luxury brands such as Omega and Rolex.
Attend antique watch and clock fairs. Consider trading watches to increase inventory and minimize capital outlay.
Consider selling specific midrange brands to dealers. Midrange Cymas, Bulovas and Walthams are easier to move than the more expensive luxury brands.
Open a Business
Open your own brick and mortar shop. Obtain a business license. Secure an agreement with a watchmaker to service and repair your watches. It's poor practice to sell timepieces in need of repair.
Offer a warranty and money-back guarantee on your vintage watches. It demonstrates that you stand behind your product.
Establish a website that promotes your business and allows customers to purchases watches online. Brick and mortar sales alone are not enough to sustain a business.