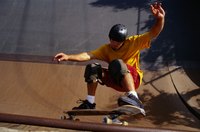 The popularity of skateboarding puts dollar signs in the eyes of entrepreneurs eager to capitalize on it by building for-profit skate parks. Many such enterprises limp along or fail because they don't understand skater culture. You can open a park, indoors or outdoors, that caters to moms who want a safe place to drop off the kids, and you can gear your park to providing challenging terrain that advanced skaters can't find anywhere else.
Skater Culture
Skaters revere the rebel image, even if Mom is dropping them off at the skate park. You can open your skate park anywhere zoning codes allow, and you should research local zoning laws to find appropriate locations. However, if you want it to be profitable in a field where your competition is free public skate parks as well as local hills, sidewalks, railings and empty swimming pools, design your skate park to be the coolest place in town to hang out -- as defined by your skating customers, not necessarily your personal standards. The typical young skateboarder likes junk food, loud music, graffiti graphics, a place to buy boards, trucks, bearings, wheels and grip tape, and a place to work on his boards. Add video games, cast-off furniture, contests and occasional visits by pro skaters. Clothing is also important to the skater culture, and a used clothing exchange might also work as part of your atmosphere.
Skate or Die
Skateboarding can be dangerous, so you can expect your customers to wipe out from time to time. Scars are part of the culture, so you will need liability insurance plus quick access to medical care to help prevent the financial scars your business could acquire. Consult an attorney about the best legal ways to control liability risk. Your half-pipes and ramps aren't the only sources of liability in a rebel culture. Plan for security and supervision to help keep the rowdier patrons under control. Just remember that no rebel wants to be somewhere security and supervision are easily identifiable, so make sure your supervisors can blend into the crowd.
The Cost of Being "Sick"
You'll need sufficient start-up money to get going in the business. It can cost from $50,000 to more than $300,000 to build a skate park, according to Skate Park Association International, and as much as $100,000 in yearly maintenance. Insurance can run from approximately $850 a year to more than $12,000, with average insurance costs around $2,000 annually. If you hold contests or demonstrations, there are additional costs to insure the participants. For an indoor park, a warehouse of approximately 10,000 square feet with high ceilings is a standard choice. Outdoor parks are variable in size. Research area contractors to find which ones have experience building skate parks. Your contractor must understand the proper angles for half-pipes and bowls. If there isn't a specialist in your area, consider a swimming pool contractor.
More than the Sum of its Parts
Popular skate parks are more than ramps, half-pipes, bowls, street courses and railings. The popularity of your skate park, like golf courses, can be enhanced by top-name designers. However, if you are designing your own, remember that skaters want courses to flow well. While they might want to practice their moves on one element, they also want to challenge themselves to see how long they can continue to shred. Effective marketing in the early stages can be done through offering classes by pro boarders, starting a team, promoting your park at local schools and putting up posters around town. If your park is truly sick, word-of-mouth will spread fast.