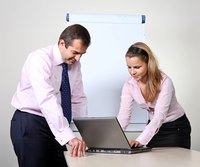 A certificate of good standing is typically issued by the secretary of state in which a company is registered to conduct business. A certificate of good standing is used by companies that want to show that they are properly authorized to do business in the state. It is typically requested by banks doing business with the company. The certificate usually shows that the company has met all of the state business filing requirements and is current with corporate franchise taxes.
Contact the secretary of state's office for your state to see if they issue certificates of good standing. Usually the corporations division of the secretary of state does this, but in some states it may be the Department of Revenue or another office. The secretary of state's office will refer you to the proper office for your state if they do not issue the certificates. For a list of secretary of state websites, visit the CC Business website (see Resource for link).
Obtain a certificate of good standing request form from the secretary of state's office, or the proper office in your state. Some states, such as Ohio, have an online form that you can fill out. If you are interested in an online form, just ask the clerk if that option is available.
Complete the request form with your business details. This includes the business name, business address and your name.
Submit the form to the address or fax number listed on the form. Be sure to include a credit card number, check or money order for the fee payment for the certificate copy. The fee varies by state.