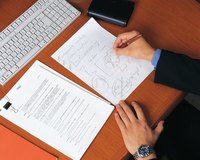 Starting a business is a dream for many people who wish for financial freedom, have a great invention/idea or are looking for a way to beat the routine of a 9-to-5 job. There are many ways that a business can be started, but one of the easiest is a sole proprietorship venture. In this case, one person is responsible for the output of money into the business, and that same person receives all the profits. Though it might be one of the easiest ways to start a business, it still has the potential to fail. Following certain steps in the process will help ensure its success.
Things You'll Need
Computer with Internet access
Business cards
Starting inventory
Office space
Think of a name for your business. Brand it by developing a logo or specific font associated with your business. Purchase business cards that will have your name, business name and relevant contact information on it so that you will be prepared to sell your products and services at a moment's notice. When starting a business, you need to bring in a significant amount of revenue to cover basic expenses. Start by marketing to family, friends and people who trust you most. This will allow you to build your client list, portfolio of previous work and recommendations.
Handle all business accounts under your name. In a sole proprietorship, one person will put out the money to get the business going, and the same person keeps the revenue. Essentially a sole proprietorship is a one-man business. Keeping all accounts associated with one person's name is important for tax purposes. When tax season comes, you will file all business transactions under your Social Security number. Any money spent to start or run the business (computers, business cards) will be written off as business expenses, and all revenues the business earned will be listed as your income.
Create a budget that will allow you to work solely at the start. Hiring employees will not only require you to pay a set amount of wages that you may not yet be able to cover financially, but you will also have to obtain an Employer Identification Number from the federal government. This then requires you to file taxes separately, making the situation much more complicated. The easiest way to start off is to do the work yourself, pay someone a noncontract, one-time fee to help with work or entice friends to do free work to help you get your business started. To determine if you will be able to afford this, create a budget to monitor incoming and outgoing business expenses.
Build an inventory of your main product that you can use as free samples. This will help generate buzz about your products, bringing you future business. It is also a good idea to have some inventory on hand at all times in the case of rush orders or unexpectedly high orders. When working by yourself on a business project, a big rush order can put you behind and actually cost you money.
Expand the number of ways that people can access your services. If you are traditionally a door-to-door salesman, consider opening a website. Rent a kiosk at the mall for a short time to get your products publicity. Run advertisements on TV or in the newspaper. Put your money into activities that are ultimately going to generate revenue for you.
Work from home. Do not rush out and buy office space in a location away from your home. A home office is essentially free because you are already paying on your house, and it is a great way to save money early in your venture. Signing a lease for office space not only contractually obligates you to pay money each month for rent, but you will also have the burdensome costs of filling that space with new furniture and appliances. The easiest way to start a business is to start small and inexpensively. You will have time to grow and expand.