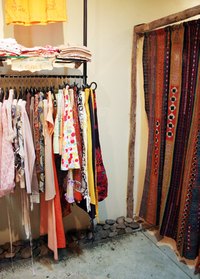 The fashion industry is highly profitable, worth over $298 billion in the United States, according to the Norman Lear Center. As one of the largest states in the U.S., Texas is an ideal location for entrepreneurs to start a retail clothing operation. Starting a Texas clothing business can be very rewarding, but there are steps you must take to ensure you are operating legally.
Target a niche for your Texas clothing business. For instance, you can specialize in baby and toddler clothing, lingerie, formal menswear, bridal gowns, adaptive clothing or swimwear.
Learn Texas law concerning the collection of taxes on goods. Texas clothing retailers are required to collect taxes at a rate of 8.25 percent on all sales shipped within the state. For example, if a customer's purchase totals $50, and he wants his order shipped to a Texas address, you will have to collect $4.13 in taxes. If the order is shipped to Oregon, you won't have to collect taxes, since it is an out-of-state purchase.
Obtain a seller's permit, formally known as a sales and use tax permit, from the Texas comptroller's official website. You can apply for this permit online, and there is no fee.
Get an Employer Identification Number (EIN) from the official IRS website. Obtaining an EIN is free, and required to operate a business with employees.
File for an assumed name certificate, otherwise known as a DBA (doing business as), from your county clerk's office. This is required of all corporations, partnerships or sole proprietorships doing business under a name other than the owner's legal name. The fee for a DBA in Texas varies by county.
Secure a venue to sell your clothing, such as a mall booth or kiosk, flea market space, shopping mall or online ecommerce platform. Online Texas clothing retailers must still obtain the aforementioned permits and collect sales taxes on all in-state purchases.
Buy wholesale store supplies and fixtures, if opening a physical retail location. This includes such items as racks, shelving, display tables, cash registers and mannequins. If opening solely an online operation, get shipping boxes and labels.
Develop a marketing plan to promote your clothing business. For instance, join a network like the Texas Retailers Association or launch a promotional website or blog. Alternatively, list your business in print and online Texas business directories and send coupons and fliers to complementary businesses such as shoe stores, hair salons and jewelry stores.