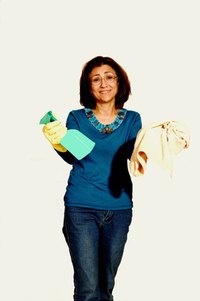 According to the Small Business Administration, "a franchise is a legal and commercial relationship between the owner of a trademark, service mark, trade name, or advertising symbol and an individual or group wishing to use that identification in a business." Buying a cleaning franchise can provide a small business owner with marketing, training and accounts receivable support. Cleaning franchisees are taught the franchiser's method for success, though guarantees do not exist. Learning about the application of cleaning solutions and operating a business can increase your odds of success. Buying a cleaning franchise may give you a competitive advantage.
Compare cleaning franchises using www.entrepreneur.com, which provides details about low-cost cleaning franchises and compiles an annual ranking of top-rated franchises. Review the costs and compare various companies to determine which cleaning franchise is best for you.
Choose a cleaning franchise to buy. Make your selection based on the financial commitments, franchiser support and the training programs that are provided to start a cleaning franchise.
Request a disclosure document from the franchise operator. A disclosure document reflects the total amount of franchises, start-up costs, earnings potential, lawsuits against the franchiser and background information about the franchiser's executives. These items are required by law and must be presented to prospective franchise buyers 10 days prior to any legal or monetary commitment.
Contact the franchiser to start the purchasing process. A representative from the company will provide the specific items that you will need and the amount of your start-up costs. The investment within a franchise can vary by business type, location, brand recognition and product demand.
Create a plan to finance your cleaning business. You will have some up-front costs that are required to buy a cleaning franchise. Form a strategy that utilizes your current financial resources and financing provided by the franchiser. Inquire about loans that are offered by your bank and the Small Business Administration.