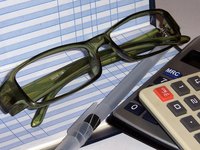 No matter what type of payments you receive from the Veterans Administration, you can enjoy many advantages by setting up direct deposit. Once direct deposit is in place, you will no longer need to worry about those monthly compensation checks being lost or stolen, and you will know you have the money available when it is needed. The Veterans Administration makes the process easy, as it only takes a few minutes of your time to complete the form.
Things You'll Need
Pull out one of the checks from your checking account. Locate the routing number; this number is located at the bottom of your check and is the first set of 9 digits within the series. Once located, write this number down.
Find the account number. This number is the next set of digits, usually 8 numbers, that reside next to the routing number. Once located, write the number down.
Download a direct deposit form from the Veterans Administration website, or request one from your local VA office. Fill out the form completely by including your name, address and the routing number and account number from your check.
Submit the form to the address listed and wait for the compensation check to be deposited. Keep in mind that it can take up to two payment cycles for the direct deposit to go into effect.