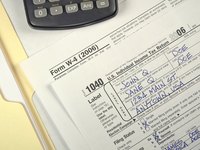 Luckily for some Americans, filing taxes can net a rebate. If you qualify for an income tax rebate, you can check the status of the rebate online. The Internal Revenue Service (IRS) is able to provide you with the exact date your rebate is due to hit your bank account or mailbox. It is best to contact the IRS directly through its website or by phone to track your income tax rebate. With the proper information, you can have the status of your tax rebate in no time.
Things You'll Need
Social Security number
Filing status
Expected tax rebate amount
Gather information needed to track your tax rebate, including your Social Security number, filing status and expected rebate amount. Without this information, tracking your tax rebate is not possible.
Access IRS.gov to utilize the online tool. The IRS provides up-to-date information through its website concerning rebates. If your income tax return was electronically filed, you can use the tool 72 hours after you receive an acknowledgment from the IRS that your return was received.
Fill out the requested information in the online tool. The online tool asks for the information you submitted on your tax forms. Double check your tax return to ensure the information you entered in the online tool is correct.
Obtain information on refund tax rebate status. The issuance date for your refund is displayed if you provided the correct information. If not, check the information again and reenter it. If you are still unable to view your tax rebate status, contact the IRS by phone.
Close the browser window. For security reasons, the IRS recommends that you close the browser window you used to access your rebate information. It is especially important to remember to close the browser if you accessed your rebate information in a public location.