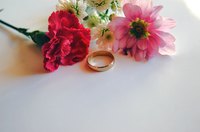 The average wedding has 189 guests, and there were more than two million weddings in the U.S. in 2008, according to the Wise Geek website. If you consider an average of two people were invited with each invitation sent out, that would make 189 million invitations that were used in one year. Include those with graduations, birthdays, anniversary parties and all events where invitations are required, and invitations could be a worthwhile business venture.
Things You'll Need
Bridal and parenting magazines
Decide if you want to resell invitations wholesale, or if you want to print them yourself. If you decide to sell them wholesale, be sure to check your state's guidelines and acquire the correct resale licenses. It's different for every state.
Research popular invitation companies to find out what new products are available and what is selling well. Read bridal and parenting magazines to find the latest trends in wedding, birthday and baby shower invitations.
Learn invitation etiquette, especially for weddings. Many people choose to order invitations through a specialist because they want to make sure it is written properly.
Post handcrafted invitations on popular craft websites. Post several examples and then offer to customize them any way the customer desires. Create your own website for custom crafted or computer designed invitations.
Download your custom designs to popular print-on-demand websites to reach a worldwide audience. Many of these companies allow you to open your own store and download your designs for free. They print and ship out the cards when they are ordered and pay you a commission each time a design is sold.
Calculate the costs of your materials. If you are printing or crafting your own invitations, be sure you are charging enough for your time and money invested.
Advertise at local businesses such as bakeries or florists. Offer to trade website links and referrals.