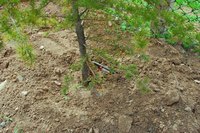 Drip irrigation is an efficient way to water your garden. Repairing a drip irrigation leak is fast and easy, requiring just a couple of items from your local hardware store. It takes no longer than a few minutes to get rid of a leak and start watering your plants again.
Things You'll Need
Garden scissors
Drip irrigation sleeve
Turn on the water to locate the hole or tear in your drip irrigation hose. Turn the water off.
Cut the hose all the way through about an inch in front of the leak and about an inch after the leak.
Discard the damaged piece of hose.
Put a thin layer of glue inside the drip irrigation sleeve using a cotton swab. A drip irrigation sleeve is a small piece of undamaged drip irrigation hose used for repairs.
Stick one end of the cut hose into each side of the drip irrigation sleeve; pinch the sleeve and the hose together with your fingers to ensure the glue makes contact with the hose. Allow glue to dry and turn the water back on.