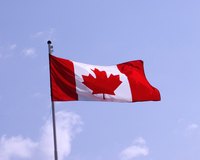 Canada's immigration law requires people from certain countries and territories to obtain an immigrant visa if they intend to visit and travel in Canada. Citizens of some countries (such as the United States, France, and Australia) do not need to obtain an immigrant visa. For the majority of individuals who need visas to enter Canada, only an application packet is needed. In certain cases, however, Canadian officials may require you to undergo a medical examination and/or an interview prior to issuing you a visa.
Obtain valid travel documents (such as a passport) from your home country. Each person wishing to have a Canadian visa issued must obtain valid travel documents. Visit the travel authority in your country to inquire about obtaining these documents.
Take two photographs of each person wishing to have a Canadian visa. The picture must show the person's face (from chin to crown) staring directly at the camera; they must be in color and be at least 35 mm by 45 mm. Pictures must be taken within the last six months.
Complete the Application for a Temporary Resident Visa form (see Resources). Answer the questions about who needs the visa and why the visa is required.
Send your application materials, along with the non-refundable fee, to the Canadian visa office in your home country. The visa office will process your materials. The processing time varies from office to office.