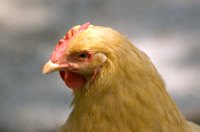 Whether you're ready to breed the animals on your farm, create a poster about the life of chickens for school or enter your best rooster in a 4-H contest, one way to capture attention and keep your image in peoples' minds is through a logo. Logos are graphical files that create a "brand". But you don't have to pay big bucks for a graphic design firm to draft a logo for you. You can harness your own creativity and your computer's Paint software to design a livestock logo for free.
Open Paint, click the Image menu at the top of the screen and select Attributes. Set the size for your logo, such as 5 x 5 inches, and click the OK button.
Click the Paintbrush tool and select the small round brush head below it. Choose a paint color from the Color Picker at the bottom of the screen. Draw the outline of the main part of the logo such as a chicken, rooster head, cow or nest with eggs.
Click the Paint Bucket tool and click inside the drawing, which fills with color.
Switch to the Pencil tool and select a new paint color, then draw accents onto the logo, such as the livestock's face, feathers, feet track marks or barn shingles.
Add additional designs to the background such as grass, a coop, tractor or a harvested pile of crops.
Click the Text tool, which looks like an "A" and click underneath the drawn logo. Select a font and size, then type the organization's name such as "Cathy's Cool Chicks", "Larry's Livestock" or "Best Barnyard Breeders." (Optional)
Print your logo and see how it looks on paper. You might want to make adjustments to the image based on what it looks like printed. For instance, you might decide on a color scheme that better matches the livestock industry.