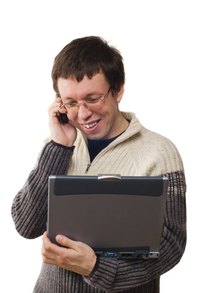 Looking for a computer programmer for your business or personal applications can be difficult because programming is largely based on the specifics of your business. Once you locate potential programmers, you will also need to find out which ones are reliable and easy to work with, as many programmers have a better relationship with computers than with people. Clearly understanding your own needs is the best place to start the process of looking for a programmer.
Write down the specifics of your programming needs in clear, concise language. If you need a website programmed that allows users to purchase merchandise online, know approximately how many products you'll have for sale, how many additional information pages you will need and any other specifics that you need to run your business online. Also, write down who will be writing, entering and updating the information and how often updates will be needed. If you need computer programming for other business applications, write down all of the information that needs to be included, any needs for form-fill capabilities, database searches and other content, as well as how many users will need to access the system and whether it needs to be expandable to grow with your company.
Locate other businesses similar to yours that might have programs like the one you want. Start with businesses within your area, but expand to national businesses, as programmers may be able to work remotely.
Contact the businesses you've located and ask who did their programming. Find out details of their experience with the programmer and whether or not they are satisfied with the work that was done.
Contact nearby technical colleges and universities with computer programming degrees to obtain the names of graduates working in the field or students nearing graduation who may be interested in freelance projects.
Create a list of at least five programmers that come well-recommended from business and educational sources. Call or email each programmer with a brief overview of your project and your time frame and ask the programmer to email you a résumé if he is interested in the project.
Respond quickly to any programmers who respond to you and have reasonable qualifications on their résumés, such as formal training and work experience with reputable companies. Set up a meeting, either by phone or in person, to discuss the details of the project with each programmer. Email the programmers your written specifics of the project before these meetings.
Select the programmer you feel is best for your project once you've had interactions with several. Programmers who have a clear enthusiasm for programming and skills in a variety of areas are most likely to be good at what they do.