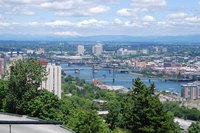 Given the recent economic downturn, the specter of filing for bankruptcy looms over many households. In most cases, bankruptcy should be seen as a last option only if you have been overtaken by certain financial burdens you are unable to overcome, such as overwhelming credit card debt, inability to make mortgage payments and divorce. However, bankruptcy will not wipe out all of your debt: taxes, students loans and child-support payments will remain intact. Most residents who file for bankruptcy in Oregon retain the services of an attorney, rather than filing pro se without one.
Consult an approved credit counseling agency within 180 days of filing for bankruptcy. A list of recognized agencies may be found at the U.S. Trustee's website. Determine which chapter you will be filing under.
Consider hiring a bankruptcy attorney to help you navigate the sometimes complex filing process. Many offer free consultations. If you are unable to do so, you must download Local Bankruptcy Form #100, a list of all the necessary forms and instructions on how to file petition packets.
File a petition packet, which consists of Official Bankruptcy Forms (OBF) and Local Bankruptcy Forms (LBF). OBF (Voluntary Petition, Schedules A - J and Statement of Affairs) and LBF ( Exhibit C, Individual Debtor's Application to Pay Fees in Installments, Chapter 12 and 13 Plans) forms can be downloaded from the U.S. Courts' website.
Pay the corresponding filing fees. For a fee schedule, visit the bankruptcy court's website (see U.S. Bankruptcy Court District of Oregon: Fees). Chapter 7 and 11 filings can be paid in installments if certain conditions are met, however Chapter 12 and 13 filing fees must be paid in full with 45 days of filing. To pay in installments, submit a Individual Debtor's Application To Pay Filing Fee In Installments (LBF #110) along with your petition. If you are filing Chapter 7, you may also file for a fee waiver by completing the Application for Waiver of the Chapter 7 Filing Fee (Official Bankruptcy Form #B3B).
File your petition packet at one of the bankruptcy court's two offices of the clerk. Residents of Benton, Coos, Curry, Douglas, Jackson, Josephine, Klamath, Lake, Lane, Lincoln, Linn, Marion or Polk counties must file at the Eugene office, while residents from all other counties must report to the Portland office. After filing, you must complete personal financial management course and file a certificate of completion with the court.