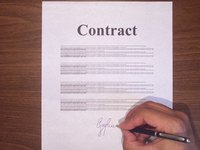 The U.S. government averages about 20,000 open contracts per month. Although there are more than 600,000 registered vendors, many of the available contracts go unfulfilled. These contract opportunities do not receive service for several reasons. One of the primary reasons is that many small businesses don't do the due diligence to procure these opportunities. Once a small business registers as a government vendor, it shouldn't stop there. There are several peripheral certifications that such businesses can apply for to enhance their chances of winning contracts. In government contracting, the more associations you have the better your chances of success.
Things You'll Need
Duns number
Tax identification number
Identify your current products or service capabilities. The government has a need for virtually everything, but it requires expertise in a given area.
Develop or verify your current business status. You will need your tax identification number along with your business DBA (doing business as) information.
Contact the Small Business Administration (SBA) to register your company's classification status.
Go to the federal government's Business.gov site.
Apply for your D-U-N-S number online through Dun and Bradstreet. This is free for potential government vendors. (See Resources.)
Register your company with the federal government's Central Contractor Registration. This is free. (See Resources.)
Create an account on the Federal Business Opportunity (FBO) website. This is free.
Perform an advanced search in the FBO system using keywords related to the type of contracts/jobs you are qualified to perform.
Print out the performance work statement (PWS) of the contracts you pick to bid on.
Contact the contracting officer listed on the PWS to find out if there are any other caveats related to the job you are considering. Ask the officer to provide you with the past performance of this contract. This information is only given if you ask and is vital to having a better guideline on pricing and operations
Price out the job according to your estimated cost for all materials, labor, travel, accommodations and any other necessary expenses. Bid on the job or jobs you can positively fulfill. Follow the submission guidelines and submit your bid.