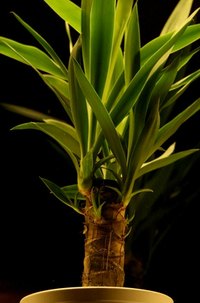 Starting a tree and plant nursery can be a rewarding venture for those who want to combine a sense of entrepreneurship with a love of gardening. Because of the high volume and relatively low pricing of nursery products, starting a tree and plant nursery requires a certain amount of organization, but this also makes initial inventory costs more affordable.
Things You'll Need
Retail location
Business license
Tax identification number
Insurance
Tree and plant vendors
Contracts
Irrigation system
Cinder blocks
Moss
Gardening gravel
Choose a location. Tree and plant nurseries thrive in locations that offer both indoor and outdoor staging areas for displaying products. Outdoor areas are ideal for larger trees and plants, including plants that require plenty of sunshine. Indoor areas are ideal for houseplants and expensive gardening tools that may be damaged by excessive exposure to the elements.
Visit your local City Hall. Secure any necessary licenses or documents for operating a tree and plant nursery under local ordinances. It may be necessary to obtain a business license, tax identification number and insurance.
Contract with tree and plant vendors. Scout around online or in the phone book for larger nurseries, farms and other plant-related enterprises to choose vendors who will supply the nursery with products. Get contracts for delivery times, pricing and quality agreements in writing, and store these in a safe place.
Organize an irrigation system. Depending on budget and nursery size, plan a system for keeping the trees and plants moistened and drained. A simple system might include a long hose and shelves of slotted plastic to permit excess waiter drainage. More elaborate systems might involve timed sprinklers and covered PVC pipe drains.
Prepare the nursery for shopping. Depending on whether the tree and plant nursery is a retail or wholesale establishment, create appealing aisles, pathways and shelving to display products. Stacked cement cinder blocks make simple shelving units, and these can be augmented by planting moss or scattering gardening gravel beneath.