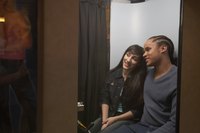 Photo booths are staples of arcades, malls and carnivals. If you are interested in purchasing a photo booth so that you can place it in a location to make money from it, or if you want to have one as a companion piece to your home's game room, you can purchase one from an amusement retailer.
Research and choose a photo booth. A variety of photo booths are available for purchase. Some will only print black-and-white photographs, others do both black-and-white and color, others print stickers, and some will allow you to email your photos. Further, there are a variety of design styles for photo booths, such as ones that appear to be a vintage style or others that look like large cameras.
Locate a company that sells photo booths. Photo booths are sold by amusement companies, which are companies that sell arcade games. Contact local amusement companies in your area as well as those on the Internet to see which companies offer the type of photo booth in which you are interested.
Compare prices and purchase your photo booth. Consider the retail price of the photo booth, as well as the cost of shipping and delivery terms. Photo booths are expensive, ranging from under $5,000 to nearly $20,000 depending on the size and type of booth. Further, shipping terms and prices will vary among companies, and some companies may require you to arrange for the booth to be picked up. Consider all of these factors before making your purchase.