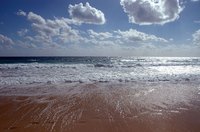 Rip currents can kill even the most experienced swimmers. More than 100 people drown each year in these powerful currents, according to The United States Lifesaving Association. In fact, most lifeguard rescues on American beaches happen because an unwitting swimmer is swept away in a rip current. A rip current can occur in any body of water where waves break on a shoreline. It forms as the retreat of waves cuts a channel underwater that moves like a swift river. Spotting a rip current can mean the difference between life and death.
Recognizing a Rip Current
Rip currents sometimes leave a signature pattern on the surface of the water. Look for a shape which resembles an hour glass. The rip current will be wider near the beach, narrow through the surf zone, then widen in deeper water where the current ends. You may see bubbles, seaweed, foam or cloudy water streaming quickly out beyond the surf zone. The water may churn or appear suspiciously smooth. The color of the water may be conspicuously different from the surf zone on either side. A rip current can also disrupt the uniformity of incoming waves. Remember rip currents may also leave no signs at all.

Check for dips along the beach. A low spot on the shoreline invites the rip current's formation. Waves break on either side of the low spot. Gravity dictates that water seeks the swiftest path seaward. The constant wave pounding in a low spot can carve a channel under the water. Jetties, piers and dips in sandbars are conducive to the formation of rip currents. As the height and duration of the waves increase, the strength of a rip current will also likely increase.
Identify the color of the flag posted on the beach. A red flag indicates the presence of hazards such as a high surf, strong currents and/or rip currents. A yellow flag tells swimmers the risk of hazard is moderate, and caution should be exercised. Spotting rip currents is the job of law enforcement, beach patrol and lifeguards. You can ask for their expert assistance in pointing out potential trouble spots.
The worst time to spot a rip current is when you are caught in one. If this happens, do not panic. Never try to swim against the rip current toward the beach. Let the current carry you seaward or exit the rip current by swimming parallel to the shoreline. A rip current's intensity decreases as the water deepens. Once you escape the rip current, swim away from the hazardous area and at an angle to shore. If you need assistance, yell and wave for help.