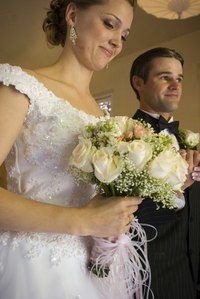 Wedding planning can be a very rewarding small business opportunity and can help you utilize your eye for detail and creativity. Couples with hectic schedules often turn to wedding planners to negotiate with vendors, choose floral arrangements and prepare the final details of their special day. Starting your own business as a wedding planner is moderately easy to do and will allow you to turn a profit on your passion for coordinating and event planning.
Things You'll Need
Take classes in event planning through a bridal association. While there are no state or federal requirements to become a wedding planner, these classes will provide you with essential skills you will need to be successful in the industry. Many of these classes are available online and will teach you how to organize, negotiate and coordinate every detail of a wedding.
Create a name and logo for your business. The name can be something simple, such as your name, or can be something catchy involving weddings. Your logo should be elegant and simple, with an easy to read font.
Register your business name and logo through your local Chamber of Commerce and apply for a business license. This will ensure that you conform to all legalities involving your business and will also establish your credibility and professionalism with potential clients.
Set up an office where you can run your business. When first starting out, it is acceptable for this to be a well-organized home office. As your career advances however, it is best to lease an office. This will give you space to keep all of your contracts and files organized, as well as a place to meet with clients.
Join at least one wedding planner association. This will give you an affiliation with some of the top planners in the industry and will make you look authoritative and professional to clients. Associations also offer lessons that can help you stay up-to-date on wedding trends and changes in the industry.
Set up a website for your business. The website should look professional and should be easy to navigate, so you may consider investing money into hiring a professional web designer. Essential details to include on your site are your name, qualification or associations you are affiliated with and your contact information. As your career progresses, you should also include photographs of events you have planned, as well as testimonials from clients you have worked with.
Post advertisements in local bridal magazines and set up booths at bridal fairs. It is important that you put yourself out there to draw in clients, as wedding planners rely heavily on word-of-mouth business for their clientele.
Visit bridal retailers, florists, bakers and other professionals in your area and try to establish a professional and friendly relationship with them. This will make it easier for you to negotiate deals with these vendors for your clients. Clients will want to contract with a planner that can save them money, so this will also increase the number of clients that want to work with you. Leave your business cards with vendors, if possible, so that they can pass your information on to their customers.
Hire more planners for your business if necessary. If your customer base becomes so large that you cannot keep up with the demand, having a staff of planners is very important. This will ensure that each customer gets the attention they need and that none of your clients are given poor service in their planning process.