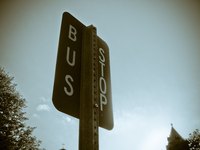 Knowing exactly when the bus is supposed to arrive and depart is a great way to plan your trip. It can save you from unnecessarily waiting for a bus in extreme weather and at night, when it is more dangerous. Although most buses stick to a specific route, the times are still estimates. It is best to arrive just a bit early, to ensure that you do not miss your bus.
Contact the bus company's customer service department to inquire about the schedule. You will need to provide the representative with your location, the time that you are leaving and/or wish to arrive and your destination. The representative will provide you with directions over the phone. In addition, you can ask the representative to mail you a copy of the route for future reference.
Look the bus route up online by accessing your Web browser and visiting Transportdirect.info. Click the "Bus Search" link and enter your bus route information. The system will search the route and populate a full bus schedule. Transport Direct works for every state, and you have the option to print out the route.
Ask the bus driver for a schedule, the next time you are on the bus. Most bus drivers carry copies of the bus schedule with them or they can direct you to where you can find one.
Visit the bus terminal and ask the clerk for a bus schedule. Usually the schedules are located on the wall of the bus platform.