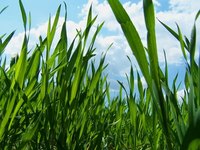 Wheatgrass is a popular component to natural healing solutions and a natural diet. Wheatgrass is fairly simple to grow indoors. The end product can be juiced and used in recipes. The entire process of growing wheatgrass from seed to harvest takes a little more than a week.
Things You'll Need
6 cups of wheatgrass seeds
Spouting jar
2 seedling tray without holes
Organic compost
Pour 6 cups of wheatgrass seeds into a sprouting jar. Fill the rest of the jar with water. Put the lid on the jar. Let it sit overnight. In the morning, pour the water out of the jar. Pour fresh water in the jar and rinse the wheatgrass seeds. Pour the water out and give the jar a shake to ensure all of the water is out of the jar. Rinse and drain again each day after for three days.
Fill a 3-inch deep seedling tray without holes with 2 inches of organic compost. Pat it down a bit, but do not pack the compost too tightly.
Sprinkle the sprouted wheatgrass over the top of the compost so the compost is hidden beneath it. Do not cover the compost with more than one layer of wheatgrass, or the roots will not be able to find a way to the bottom.
Sprinkle water over the top of the wheatgrass.
Cover the tray with another tray that does not have holes. You can also put the tray in a dark location in your house. Keep the tray in the dark for three days. After three days, you will see small shoots coming out of the soil.
Move the tray to a sunny spot in the house. Water the tray once or twice a day. Water it more often if the weather is hot. Make sure it does not get direct sunlight.
Harvest the shoots when they are about 7 inches tall.