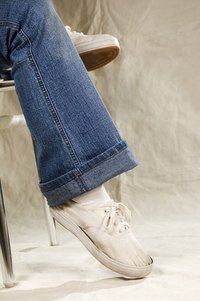 The standard look of a sneaker requires only a basic pair of shoelaces, but for a few pennies you can make a shoelace that is colorful and trendy to let your feet stand out in a crowd. Before you begin, select three complementary colors to mix together for each lace. You can make two identical laces for matching shoes, or jazz things up a bit by making two different laces so you have two one-of-a-kind shoes.
Things You'll Need
Embroidery floss, three colors
Yard stick
Scissors
Safety pin
Throw pillow or upholstered chair
Nail polish
Measure out and cut each of your three colors of embroidery floss into 1-yard (3-foot) long strands. Knot the tails of the three stands together 1/2 inch to 1 inch from the ends on only one end.
Slip a safety pin through the knot and attach it to a throw pillow or the arm of an upholstered chair. Secure the pin so it will not slip or rip the fabric when you pull on the floss.
Braid together the three strands starting at the knot at the top. After 6 to 8 inches of braiding, stop braiding and untangle the loose tails. Continue to braid until you make it all the way to the other end of the strands.
Tie a knot in the bottom of the strands 1/2 inch to 1 inch away from the end to close off the braid and complete the shoelace. Remove the safety pin from the top end of the shoelace.
Brush your preferred color of nail polish over the loose ends all the way up to the tied knot on both ends of the shoelace. Add more polish until all of the floss is coated and sticking together. Leave the ends to dry for up to 1 hour.
Repeat all five steps to make a second shoelace.