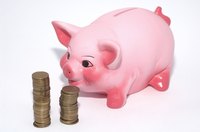 According to Bank Rate, approximately 70 percent of United States workers are worried about retirement savings. Saving for retirement may seem years away for young workers; but saving consistently over decades adds up quickly. Considering factors unique to the investor's situation, such as current age, retirement age and retirement goals will assist in planning for a comfortable retirement.
Determine retirement age. There isn't a one size fits all retirement age. Everyone has different retirement age goals. Brainstorm when you plan on retiring. For some people this will be 55, for others it's 65. Also calculate life expectancy. MSN has an online calculator to assist with this (see Resources).
Plan retirement contributions. Make a list of annual income and how much you can afford to save each year, as an example 10 percent of income or more. Also review retirement accounts and make note of how much money is already saved.
Calculate how much income is needed annually after retirement. For example, a person who earns $50,000 annually may want to keep his current lifestyle after retirement. This means he'll need to save enough to equal $50,000 annually after retirement.
Surmise retirement needs. Plug retirement needs into a retirement calculator. Make sure to check the "include an estimated social security benefit" if you qualify for social security withdrawals. This will provide the annual withdrawal for savings. For example, if contributions are estimated at 10 percent of income and the results indicate you can only withdrawal $25,000 annually after retirement (instead of the required $50,000), try boosting savings to 20 percent. Play with the contribution number until it meets your needs.