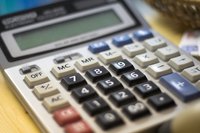 Homeowners are required to pay property taxes each year to fund a variety of projects, including roads, schools and other local projects. Depending on where a homeowner lives, this bill can be very large. Property taxes are based on the assessed value of the home. The higher the assessed home value, the larger the tax bill. Learning the assessed value of the home and tax rate will assist in planning for these expenses.
Call the city's tax assessor office. Property taxes are based on the assessed value of a property. An assessed value is different than the market value of the home. Some cities provide a database, where property owners can search assessed values, on the website. Also, look at the tax assessor's website for the tax rate. This rate may change periodically, but the tax assessor should keep the rate current on the website.
Ask about exceptions. Some cities provide exceptions for property owners who meet specific criteria. For example, a tax assessor may provide reduced property taxes to people struggling with disabilities or other serious health issues. Ask the tax assessor for exceptions in your area.
Calculate property taxes on the property. After gathering the assessed value and current property tax rate, you're ready to calculate the property tax. Multiply the assessed value of the home by the tax rate. For example, if the assessed value is $125,000 and the tax rate is one percent, the tax bill would be $1,250 ($125,000 multiplied by .01).
Check out online property tax calculators. Another way to calculate property taxes is if the state offers an online property tax calculator. For example, Michigan allows homeowners to calculate annual tax responsibility directly through the tax assessor's website. Contact the local tax assessor to determine if the website offers this tool.