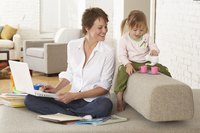 As a customer of Cigna's network, you have access to certain doctors, hospitals and other medical professionals. You can see any doctor you want, but to avoid out-of-network costs, you should choose a medical provider that is included on the Cigna provider list. Non-Cigna customers can also access the list of providers to determine if Cigna covers their current health care providers or if they will have to find another provider if they use Cigna.
Visit the Cigna Website
From the Cigna website, click on the "Find a Doctor, Dentist or Facility" option. If you are a current Cigna customer, you can also log into your MyCigna account and choose the "Find a Doctor, Dentist or Facility" link found at the top of page. Pick whether you want to find a doctor, dentist or facility and then enter your zip code or city and state. You can also search by keyword and doctor or facility name. If you're searching from the general Cigna website, you'll also have to indicate what plan you want to search under. If you search from MyCigna, the database will automatically pull up providers that match your current plan.
Additional Features
When you search, the Cigna website gives you directories of the most popular searches to help you narrow your options. The MyCigna search results provide additional information on each provider, including schooling, years in practice, quality of care reviews and cost estimates for different procedures.