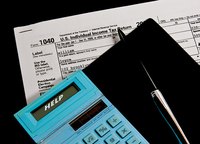 S-Corporations are corporations owned by less than 100 shareholders whom have elected the S-Corp tax status. These corporations do not pay corporate income taxes and instead pass all profits and losses through to the shareholders. The process of preparing a tax return for an S-Corporation is closely linked with preparing the income tax return of the corporation's shareholders. There can be some significant tax planning strategies available to S-Corporations and their shareholders as such it is advisable to have a CPA do the annual tax planning and filing for the corporation.
Complete page one of IRS form 1120s with data from your year-end financial statements. Page one of the 1120s calculates the net profit of the business by subtracting business expenses from business revenues. Line 21 shows the business's income or loss for the year.
Complete the schedules on pages two, three and four. The final three pages of the 1120s contain supporting data for the calculations on page one. Schedule A contains the cost of goods sold, while Schedule L contains the company balance sheet.
Use the data from schedule K-1 of the 1120s to generate K-1s for each shareholder. K-1s are equivalent to 1099s or W-2s, they tell the IRS who received income during the previous year, the difference between a 1099 or W-2 and a K-1 is that the income is not earned income but instead is business profit.
Use the K-1 forms to complete the Schedule E of each shareholder. All income shown on schedule E is subject to ordinary income tax rates but is not subject to self employment tax or medicare and social security taxes. Because this income is subject to less taxation most S-Corporation shareholders try to take low salaries and let as much of their income come from business profit as is reasonably possible.
File the 1040s of each shareholder. Now that each shareholder has their schedule E completed the income from the schedule E can flow to their 1040 tax return to be eligible for deductions and credits.