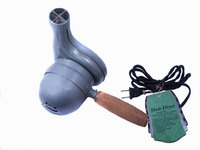 Blow dryers are devices used to speed up the evaporation process of wet or damp hair by blowing hot or cool air. They are a necessary tool for hair stylists and also are found in most homes. With much use. blow dryers can accumulate dust and dirt on the inside, making them a potential fire hazard. Germs and dirt also can collect on the outside from handling and improper storage. Cleaning blow dryers ensures safe use and better, longer lasting performance.
Things You'll Need
Soft toothbrush
Vacuum cleaner with attachments
Screwdriver
Rubbing alcohol
Soft cloth
Loop the power cord and secure with a rubber band to lessen the chance of any damage or hazards.
Remove the grill at the back end of the dryer to reveal the intake filter. Use a soft toothbrush to gently brush away any debris, dust and dirt that may have accumulated in the filter and filter screen.
Suck out loose dust and debris from the intake filter and screen using a vacuum cleaner with proper attachments.
Use a screwdriver to loosen and remove screws holding the frame of the dryer together. Remove the cover frame and scrub dirt from the fan and motor with a soft toothbrush. Suck out loose debris with a vacuum cleaner and attachments, taking care not to damage the delicate interior.
Replace the cover frame and screw in screws with a screwdriver.
Moisten a soft cloth with rubbing alcohol and wipe down the entire exterior surface of the dryer. Store in a cool place and allow to air dry.