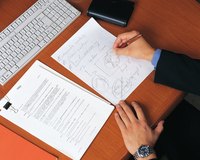 LLCs, or "Limited Liability Companies," are legal entities that many businesses choose to form because they provide flexible tax options and liability protection for the owner. LLCs provide new business owners with the option to be taxed as an individual or as a corporation with respect to business income. New business owners should consult with a lawyer or an account when making an LLC tax election. LLC's are also considered to be a separate entity from their owners in the eyes of the law. This means that if a lawsuit is brought against an LLC, the owners of the business may not be held personally liable. Other business forms such as sole proprietorships and partnerships do not provide business owners with this type of protection. If you would like to start a new LLC in Ohio, there are several steps that you must satisfy in order to complete the registration process.
Choose a name for your LLC. You may use your name or any name that you would like to identify your business with. However, LLC business names must include a "corporate designator" such as "LLC" or "Company" after the name.
Check to ensure that your chosen business name is available in Ohio. If an Ohio registered business is already operating under your chosen name, you will need to select an alternative name. To find out if your name is available, visit the Ohio Secretary of State's website and type your LLC name into their "Name Availabilities" tool. A link to this tool is located in the "Resources" section below. If another company is using your name the site will show that a conflict exists by providing information about the business that is currently using the name. You may also request this information by contact the "Business Services" Department at: 614-466-3910.
Complete Form 533A: Articles of Organization for a Domestic Limited Liability Company. This form is available on the Ohio Secretary of State's website or by calling to request a copy from the Business Services Department at 614-466-3910. You will be required to provide information about your business such as the date that it was formed, the name that you would like to register, the owners or officers of the business and a brief statement of the purpose of the business. Sign and date the form. Include the $125.00 processing fee and mail your documents to the following address:
Ohio Secretary of State PO Box 670 Columbus, OH 43216