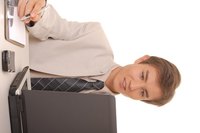 One essential skill that will contribute to your success in business is the ability to write a successful follow-up email. In the flurry of any business event where you meet several important people in a brief amount of time, it is easy for potential contacts to lose your business card or even fail to remember your face. When done properly a follow-up email will help grow your business contacts, whether partners, clients or sales leads.
Send your follow-up email within two days of your meeting. This will ensure that your contact is not lost in the affairs of the work week. For weekend meetings, an email sent out Sunday evening will land at the top of your contact's inbox and demonstrate you are serious about the contact.

Include the business meeting's name in the subject header of your email. This will allow your contact to recall the meeting and your conversation together.

Reintroduce yourself by name and briefly mention your business in the opening line of your email. If your contact has lost your business card, or otherwise doesn't remember you, this opening will save time in their workday.

Politely state your purpose for continued contact. Keep your overall message brief yet informative. According to Freelance Switch, an effective follow up highlights the benefits of working with you.

Follow through with any requests or promises you made during the initial meeting. You may have told your contact you would pass on a services quote, or contact information for a potential client. Doing this promptly demonstrates your reliability and encourages a continued relationship in the future.