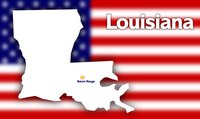 Starting a small business in Louisiana is easy. Numerous small-business resources from the state and non-profit organizations can help. As with any type of business, it is helpful to have a solid background in business or financial management. However, with a little bit of research and the help from the state, almost anyone can start a small business in Louisiana.
Create a business plan. Write down the general idea for your business. Include the service or product you will offer. When you research your target market or audience, keep in mind that Louisiana has the second largest African-American population in the nation. Describe how you plan to reach your customers, and how they will know about your service or product.
Look for opportunities near the bigger cities such as New Orleans or Baton Rouge. Bigger cities usually offer more business tax incentives from local governments.
It is very important to include financial projections if you are seeking loans or pitching the idea to private investors. A solid business plan will help you start your project with clarity and effectiveness.
Get free advice about your business idea. The Louisiana Small Business Development Center (lsbdc.org) offers free business start-up advice and training to anyone seeking help with a business plan or idea. Also, the Service Corps of Retired Executives Association, or SCORE, and the Louisiana district office of the U.S. Small Business Association (sba.gov) provide mentoring, low-cost workshops, and business counseling.
Choose a location for your business. Find the best types of spots by analyzing similar types of successful businesses and where they are located. Check with the local government in Louisiana for zoning laws and regulations regarding the types of businesses allowed in your area.
Finance your business. Decide exactly how much you need to get your business up and running. For most businesses, you should have enough money to cover at least the first year of operations. This assumes that the business won't make any profit until the second year, and it gives you a one-year buffer to get your business up to speed. Decide whether you will finance it yourself, or seek loans, or use money from a private investor or grants.
Louisiana was ranked fifth for entrepreneurial activity by the 2008 State New Economy Index, and the state offers many tax incentives for new businesses, especially in digital media and film production.
Register your business. Decide what type of legal structure your business will have: a sole-proprietorship, a limited liability corporation, or LLC; or a C or S corporation.
For a small business, the sole proprietorship is the easiest to start, but it doesn't offer the liability protections of an LLC or a corporation. It is common for small businesses to choose the LLC structure because it provides the flexibility of a sole proprietorship and the liability protections of a corporation.
Sole proprietorships doing business under an assumed name need to register the name with the local parish clerk of court office. Other business entities need to submit an application to the Louisiana Secretary of State.
Get special permits. Check with your local government in Louisiana for the types of permits your business might need to operate legally. Fill out the forms and submit the application fees.