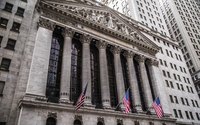 By the time a company's stock is made available to ordinary investors on an exchange, the business has undergone a lengthy process. Listing a company on one of the major U.S. stock exchanges requires a broad array of preparatory work, including filing financial documents with the U.S. Securities and Exchange Commission, preparing the stock shares for an initial public offering, and filing paperwork to prove financial stability. Each major exchange also has several requirements companies must meet before being officially accepted.
CUSIP and CIK
A company must obtain a CUSIP number and a Central Index Key to complete an application with the major stock exchanges. The Committee on Uniform Securities Identification Procedures system, owned by the American Bankers Association, issues the uniquely identifying numbers known as CUSIPs to new securities.
Filing with the SEC
Forms must be filed with the SEC disclosing financial details and plans that are eventually made available to potential investors. For example, a company must disclose information about its management team, assets and business model. After gaining SEC approval, the company is eligible for a CIK, a unique 10-digit number the SEC provides to companies that file paperwork with the agency.
NASDAQ Applications
To list on the NASDAQ exchange, the company follows a step-by-step application process. These steps include choosing an available trading symbol and completing a reservation form. The company then provides the exchange with its CUSIP and CIK numbers. The exchange requires several documents and forms to be completed and submitted with the application in addition to the symbol reservation form. These include the listing agreement form, corporate governance certification form and logo submission form. NASDAQ's listing guide states that after a company submits a listing application it takes approximately four to six weeks to complete the process if no problems arise.
NYSE Listing
In addition to meeting initial financial requirements, a company applying to be listed on the New York Stock Exchange must provide extensive and detailed information about the business to the exchange during the application process. The NYSE provides a checklist for potential clients that outlines each requirement for authorization to list, including a description of all the paperwork to include. Among the many forms and documents a business must submit are copies of the company's charter and bylaws, copies of forms filed with the Securities and Exchange Commission, and copies of board and shareholder resolutions giving permission to list.
An Option for Small Businesses
Although over-the-counter platforms are not stock exchanges, some small businesses choose to list OTC shares for ordinary investors. This provides an avenue for a business to raise capital. Rules for listing with an OTC platform are less stringent than the major exchanges. For example, some smaller companies that trade on the OTC provide no financial reports and do not file any documentation with the SEC, making it difficult for investors to know what they are buying.