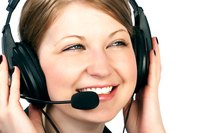 Customer service is determined by how well you and your staff interact with clients. Relying on sales to operate a company requires having staff who are knowledgeable about the company's products and well versed in customer service. Determining the needs of your customers and responding accordingly helps your company increase sales. Offering excellent customer service by training your representatives and arming them with the proper tools can mean the difference between retaining a customer and losing him to another supplier.
Address your customer by name and provide answers when he has questions. Know the products you are selling. Even if you do not have the answers, find them by contacting your superior to locate the answer or doing the required research to meet the customer's needs.
Avoid keeping customers on hold for long periods of time. Whether you are dealing with her face to face, via the Internet or on the phone, do not allow a customer to hold for longer than two minutes. If it takes longer than two minutes to locate an answer or solve a problem, offer to call the customer back.
Offer several lines for customers to contact your business. Make it easy for clients to find you by using the Internet and telephone. Monitor phone calls and make sure the customer is receiving the best service your company has to offer.
Adjust your procedures to meet the needs of your customer. One approach may work well for a customer, while another customer is unable to relate to your approach. Being flexible allows you the opportunity to offer better customer service and increase sales.
Personalize your business by using technology to improve customer service and increase sales. Use data collected to determine your customer's preferences. Provide a location on your website to answer customer questions and include a Frequently Asked Questions section. Also, use email to reply quickly to customer requests.