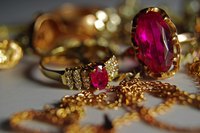 If you want to create a strong name for a jewelry company, there are different approaches you can take. While some people might use humor and puns to ensure their company name gets noticed, others might choose to use keywords that appeal to the type of clientele they want. Coming up with just the right words and then following the protocol to secure them are the keys to creating an effective jewelry company name.
Make a list of synonyms for jewelry-related words. The word "jewelry" itself doesn't have to be included in your company name. Words such as "trinkets," "charms" and "baubles" can also convey what you sell. Consult a thesaurus to find other words that describe jewelry and can potentially make up your company name.
Incorporate your name into your company name if you have a good reputation in the industry. If you've been designing or selling jewelry and have a name that's already credible in the industry, consider making it all or a part of your company name. You may have already built brand loyalty through your name alone which can then be carried to your company.
Do an online search of your prospective company name(s). If you register a company name that has already been taken or trademarked and offers a similar product or service as you, your application will be rejected and your fee may not be refunded. A simple Internet search engine as well as the US Patent and Trademark Office's Trademark Electronic Search System (TESS) can help you avoid registering company names that are already taken.