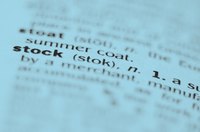 A stock portfolio is a compilation of stock holdings that reflects the investor's choices of stocks. A stock portfolio can be as simple as an Excel spreadsheet or a complex, interactive program that automatically updates your portfolio with current stock price information. Knowing where your investments stand is essential in making your investments work to your benefit. Those who do well investing in stocks do so by being active and involved.
Determine the amount of money you have to invest in the stock market. Consider how much money you have already invested, and how much more you can invest.
Compile a list of your current holdings, including when the shares were bought, the stock share price paid, broker fees and the number of shares you own.
Keep this information in a spreadsheet so you can easily access update and revise it.
Open an online trading account if you do not already have one. If you have more than one trading account, try to consolidate them into one account, to keep all information in a central location.
Each trading account will list all of your stock holdings and their current prices. Consolidating multiple accounts is helpful because you will have one master account to monitor.
Sign up for an online portfolio tracking service if you do not use an online trading account, or if you do not have free access to portfolio tracking tools through your financial institution.
There are many free tools and applications that exist for both personal computers and smart phones.
Review your online account to make sure that all stocks that you own are included. Refer back to the master spreadsheet you created, which will serve as your personal master list.
Sign up for alerts and notifications of activity in your major holdings. You can log in and check your portfolio at any time, and most online trading companies offer free online investing tools.
Monitor statements and your online account often. Get in to a routine where you check your portfolio balance on a routine basis.
Reviewing your stock portfolio should be done at least every month to make sure that your current investments are performing at a level you are comfortable with.