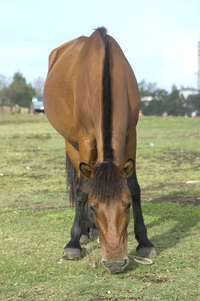 Diatomaceous earth is used as a holistic treatment for horses against parasites and as an overall health enhancer. It is fed as a top dressing on feed, but it can be difficult to get a horse to willingly ingest it. Since it is, in fact, dirt, getting horses to get past the odor and the flavor can be a bit of a trick. Some horses will seek it out, but most will try and eat around it. Knowing how to get it into your horse is half the battle.
Things You'll Need
Buy a good quality sweet feed that is very sweet and sticky—the more molasses the better. You should also purchase some molasses from the grocery store.
Measure a rounded tablespoon or two into a feed bucket, then mix in 1/2 cup of molasses and mix thoroughly.
Add in a pound or so of the sweet feed and mix again until the diatomaceous earth is thoroughly stuck in and around the sweet feed.
Feed this to your horse and allow him to consume the entire amount before feeding him his regular feed. As the days pass, you can mix more of his regular feed into the sweet feed and earth mixture until he is comfortable eating the earth along with the food.
Allow your horse to eat diatomaceous earth by choice by providing a pan of it out in the horse pasture. Some horses will crave the minerals in the earth and willingly consume it. Make sure there is also a salt block and plenty of water, as the horse will likely alternate between these as it nibbles on the diatomaceous earth.